Brooklyn, New York has been known to produce a few legends within its time. Now, I'm not saying she's quite to the legend stature yet, but DonMonique is taking all the right steps to disrupt the game of hip-hop as a whole. She started getting recognized through her fashion choices and photoshoots. For a while, she was modeling for Pharrell Williams on a website called Karmaloop. A major turning point came when she did a photoshoot in rare FUBU attire that made its way to Tumblr and had thousands of "notes" and reposts within hours. With a fashion-oriented outlook, she set the tone for a high level of crossover appeal and let people know from the beginning that she is stylish and distinctive.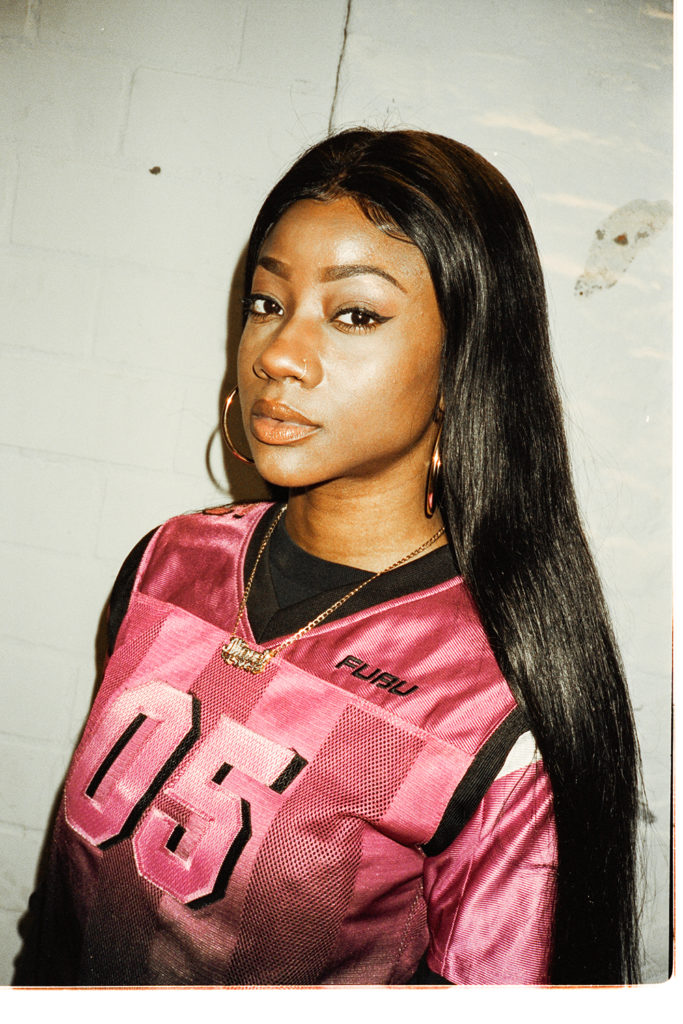 Before becoming a hip-hop artist, Don made connections with people who are relevant in the genre. Her manager at the time was the one who recommended that she avoid just popping up in studios without anybody knowing her personally.
By building rapport, networking and gradually placing herself on people's radar she was able to experience more success when it came time to getting behind the microphone and releasing new tracks. It is not about who did it first, it is about who did it right.
"Pilates" by DonMonique
When it was finally time to burst upon the scene, DonMo captured her moment in all of its glory. A common theme within hip-hop is to replace certain powdery substances with the names of white females. DonMonique was very aware of this and on her first song, "Pilates" she name-dropped Kendall, Kylie and Miley. This song premiered on the Alexander Wang fashion show runway and was conceptualized in Atlanta while she was there for the A3C festival. DonMonique admits that the Atlanta sound played an impact on this song's soundscape as she comes by different sonic approaches honestly.
The video for the song was shot in Atlanta, as members from Awful Records made appearances and helped boost the visibility of the video.
https://www.youtube.com/watch?v=NhY379hlDsk
"Pilates" caught on when Kylie Jenner posted the song on her Snapchat. Kylie has been known to post fresh new music on her Snapchat account and the fact that this one was quality and mentioned her name must have made a good impression.
Either way, people began to take notice of this young Brooklyn artist with only a few songs to her name. Shortly thereafter, she would start working with revered artists such as Danny Brown, Justine Skye and Chuck Inglish. She toured with Lil Debbie, opened Webster Hall for Lil Yachty and got Stelios Phili (the same man who helped produce "Ferg Forever") to produce her mixtape, "Thirst Trap." She has that New York pizazz that many covet and few are able to generate.
Hypnotic radiance: DonMonique
DonMonique, or DonDada releases refreshing tunes every time she steps into the studio. She is a great example of how women are dismantling the traditional hip-hop game and dispelling the notion that there can only be one Queen of Rap. She appreciates her hometown for its hectic jungle atmosphere, nuances, and grounds for uncontained creativity. With an old soul and a Brooklyn drawl, this artist consistently asserts a quintessential New York sound every time she lays rhymes down on wax.
It is evident that DonMonique is not to be messed with. She is rugged, rough around the edges, and a bit tomboyish at times. All of those things serve her well and present an intriguing background and overall differentiation. As a starving artist, DonMonique provides gritty bars, deadpan delivery and brash rhymes. With a raw persona, she is titillating, enticing, menacing and most importantly, genuine.
When it comes to developing songs, DonMonique takes a minimalist approach. By giving the people just what they need and not a drop more, she keeps the fans honest and insatiable. Her clever verses and raspy vocals have allowed her to wisely navigate the male-dominated industry and reach new wavelengths. As a result, she serves as a symbol of empowerment, and advocates unity for women in the form of uplifting anthems and dialogue.
Her first mixtape, "Thirst Trap" dropped in conjunction with the Hot 97, "Who's Got Next" showcase. The title plays on the phrase for social media posts that attract viewers and persuade them to leave desperate comments. It also relates to the fact that her body of music paired with her physical body and outstanding style leaves the audience thirsty for more.
Before dropping her album, "Black Kate Moss," DonMo took a bit of a hiatus to appreciate the moment and rejuvenate herself in order to supply the best possible product for her consumers. The release date was pushed back so that she could concentrate on herself.