On June 9, 2018 via livestream on .WAV Media (Steve Rifkind, Loud Records) Kanye and Cudi released their first collaborative project titled, Kids See Ghost. The listening party took place in Santa Clarita, California and only granted entrance to persons traveling via shuttle bus. With intricate attention to detail, the setting resembled a  ghost town.
The album is a power-punch at a brief 23 minutes. It is another example of the "killer, not filler" minimalistic approach that has become the structure chosen more and more by musicians around the globe. Contemporary Japanese artist, Takashi Murakami contributed the artwork for this album and also Kanye's "Graduation" cover in 2007. Sample selections stemmed from the likes of Nirvana ("Burn The Rain," "They're Coming to Take Me Away") and Shirley Ann Lee ("Someday") with terrific guitar, drum and vocal layering. The album yields semblances of introspection, free thinking and simplicity.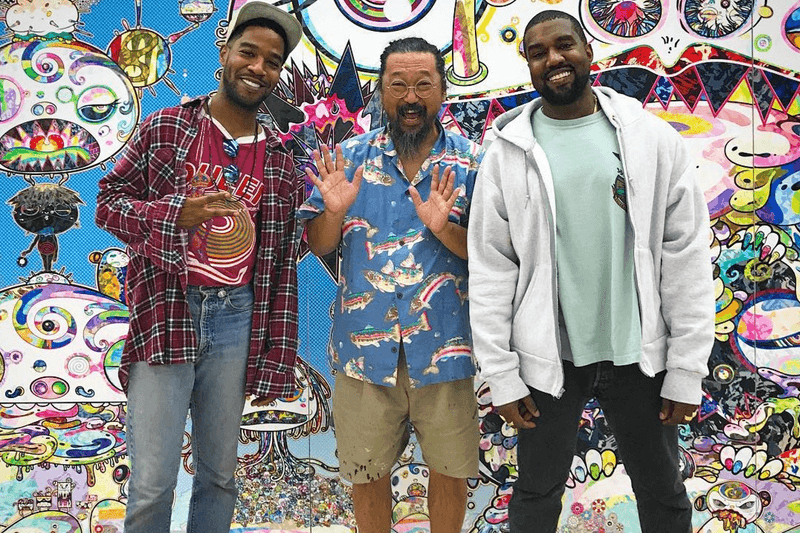 Kids See Ghosts: Unlike Anything Heard Before
There are few collaborators that have shifted the hip-hop soundscape quite like Kanye West and Scott Mescudi. In 2008, Kanye brought Kid Cudi out of the depths of his lair to establish some of the most groundbreaking tunes of our generation in the form of 808's & Heartbreak. Not a lot of people are aware, but Kid Cudi served as an existential and monumental force to the experimental album that dealt with Kanye's emotional hardships (post Amber Rose.) Additionally, Kanye's guiding force throughout the "Man on the Moon" series influenced a generation and displayed unmatched genre-defying spiritual vibrations and ensembles.
Bringing the best out of each other is exactly what these two have always managed to do. Although, some would argue Kid Cudi's contributions brought more of a punch on this particular project. It is fair to say that Kid Cudi proved excellence and demanded Kanye's presence to match that height. Regardless, Cudi and West never disappoint and can truly shift musical boundaries when they each play to their strengths and elevate their mutual reflective beliefs. 
Far from the prior compelling wavelengths of "808's & Heartbreak" and "Man On The Moon," Kids See Ghosts still taps into raw and exhilarating points of view. With psychedelic crescendos and meditative self-acceptance, the duo curates an alternative universe which focuses on spacious and melancholy type vibes. Their compositions are daringly raw and majorly personal.
Overcoming Adversity in a Major Way
It is important to note that these artists had been experiencing significant emotional turmoil prior to releasing this album as each of them needed to be medically evaluated for mental illnesses. Together, they elicit the strengths of one another and harness their pain into melodic brilliance. Their transformation from alienation and sadness into triumph and bravado is particularly exceptional. Their ghost like theme and imagery is one of many ways that they touch upon spirituality throughout this album. It is clear that they both found solace in a higher power and truly delivered a sensational project.
One thing that is for certain, these two artists pushed any inkling of ego to the side to make good music. Each shared his vulnerabilities and portrayed tenderness to extend a helping hand to the audience. The members of Kids See Ghosts purged their feelings through these records and dispelled their inner demons to achieve peace.
Kids See Ghost represents a culmination of forces that formulate an album much akin to a succulent, well-aged fruit. This collaborative album was intended to arrive in 2009, but was shelved due to different obligations. In any event, this album is especially important because it sets yet another precedent in the evolution of hip-hop. They created  a sector of music that  uplifts, encourages, stimulates and rejuvenates all of those who tune in.
https://open.spotify.com/album/6pwuKxMUkNg673KETsXPUV