Last June, to fittingly celebrate Father's Day and Juneteenth, Jay-Z and Beyonce dropped a joint album, "Everything is Love," that overpowered Kanye West's consecutive run of June albums. G.O.O.D. Music, West's label, was responsible for releasing an album every week in June. One was Kanye's solo effort called, "ye" another was Pusha T's, "Daytona" the other was Teyana Taylor's, "Keep That Same Energy" and the final album was a collaboration between Kanye and Kid Cudi called, "Kids See Ghosts." Certainly, June 2018 proved to be a scorching month for new musical releases.
Hip-hop royalty
What a better time for a surprise drop than the first month of summer as Bey and Jay kept this album stored secretly within the vault until they made a blast announcement in the midst of their "On The Run II Tour." Their tour kicked off in Wales, UK and the dynamic duo announced the unearthing of a collaborative classic on Empire Polo Field in London June 16, 2018. The album hit Tidal airwaves one day after Nas' most recent album, "NASIR" hit the market as well.
This album marked the third secret drop, sans promotion, to be delivered from Beyonce and Jay-Z. Originally, the album was set to be released around late April 2016, but Beyonce's "Lemonade" arrived in its place instead. June 2017 is when Jay-Z released his vital effort, "4:44" and finally their mutual musical brilliance converged with the release of, "Everything is Love."
Musical change agents
Beyonce's, "Lemonade" was an album that spoke to female liberation all over the globe. When it came out without warning in April 2016, it provided anthems and gave women a foundation by which to represent themselves and feel wholesome as powerful individuals within a male-dominated society. This bombshell album changed the landscape of the genre. It took a stand against injustice, infidelity and highlighted the importance of forgiveness. Women everywhere had reason to rejoice with this uplifting and empowering album that also featured an hour long documentary.
Next up, it was Jay-Z's turn to combat and address his contribution to the obstacles faced between the power couple. The album, "4:44" came out June 30, 2017 and addressed his infidelity, near-collapse of his family, intergenerational wealth and financial literacy. This album showed Jay-Z at his most vulnerable, where we often receive the most genuine and quality lyricism and musical renditions. Humbled and disarmed, Jay profusely apologizes and shares tales of how he is determined to change his womanizing ways. He covers every topic that surrounds being a loyal man to his wife and his family. He wrote extremely detailed songs about how his actions deeply affected his family. His transgressions are laid out on the table for everyone to digest and Jay-Z confesses everything in a bare-all, be-all type of songwriting structure. Overall, this album proves that Jay is unafraid to take risks, trusts his instincts and will contribute quality music no matter what the subject matter. Now that Jay is 47 years old, this album shines as a testament to his outright longevity and ability to remain atop the "young man's" hip-hop game despite many of his middle-aged counterparts showing their age and accompanying decline.
Unity to overcome hardship
"Everything is Love" stands as the final installment of the Carter family's relationship saga. As a soulful summoning of their congregation, Jay-Z and Beyonce complement each other beautifully. Well, it actually shows how comfortable they can be around each other. Their songs depict luxurious lifestyles rather than the downright hunger and enthusiasm that they matched each other so well with on "Crazy in Love." Different times call for different approaches, though. With a very strong and condensed adult contemporary collection, this album comes in at a runtime of 38 minutes and just nine tracks. Their self-optimization reigns supreme via slender track arrangements and compact running times to ultimately showcase brilliance. Together, they provide sonic testaments to reconciliation and forgiveness and their artistic expression doubled as a therapy session. They acknowledge their collective trials and how they ferociously overcame and conquered the challenges presented within their family ties.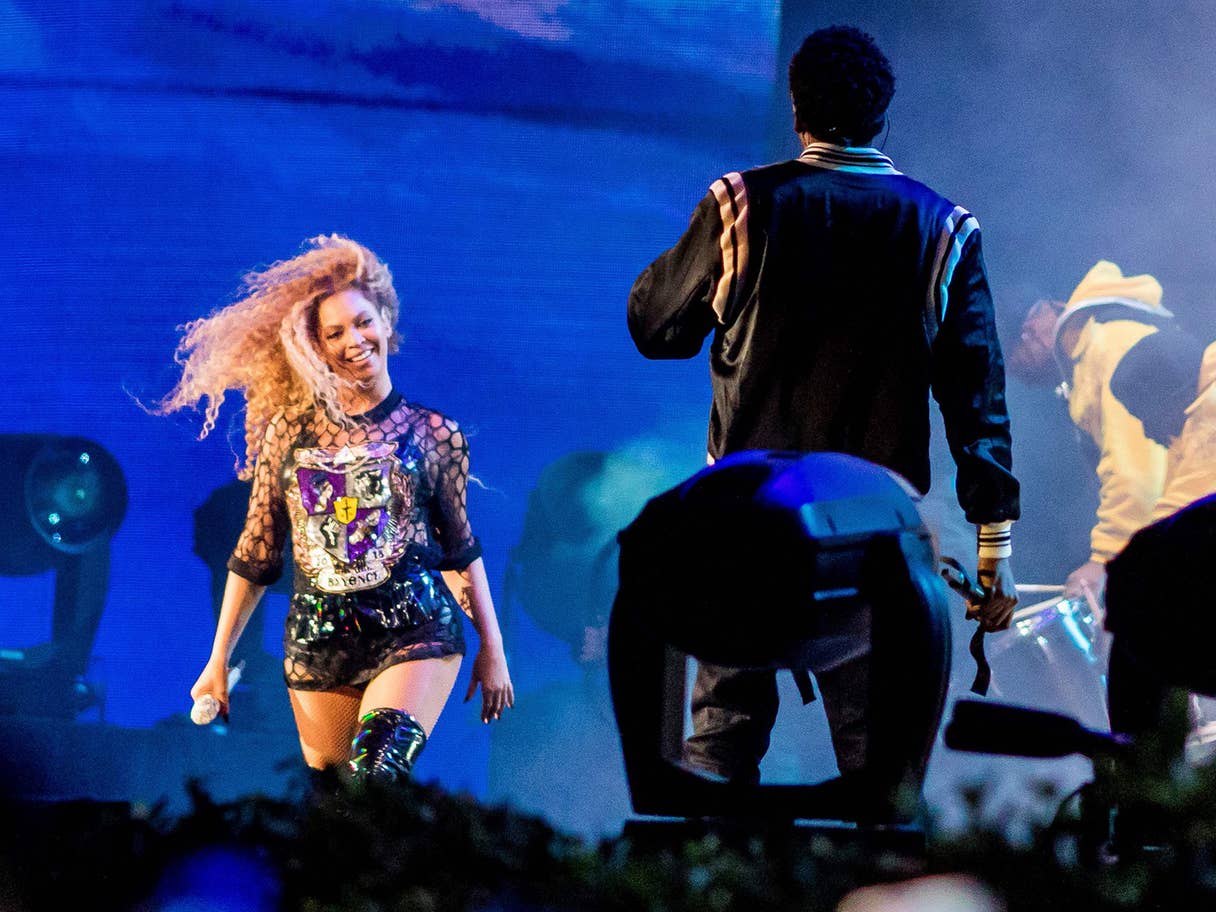 "Everything is Love" reconstructs the hip-hop narrative with songs that are refreshing, necessary and ultramodern. They speak upon the evolutionary shifts that have weighed down the music industry while bolstering their own identities in the most powerful manner. Their respective charismatic narratives portray an arc that is far from linear. In each and every project they release for public consumption, their growth remains steadily extraordinary. The two are able to sell the notion of capitalist aspiration and social liberation seamlessly within a wild tightrope act of an album. The imagery involved within the videos and cover art of this album prove the grandiose nature that these two moguls have such a flair for. They performed video renditions within the world-renown Louvre (Paris) art museum, next to the revered Greek goddess, Nike and coincided with artwork of Leonardo da Vinci. They clearly articulated to us that their love and collaboration belongs within the canon of white colonialist history. The two most definitely cemented (and continue to stake) their mark within traditionally white spaces and cultural mainstays.
Much of the content deals with their relationship turmoil and sees Jay-Z accepting ultimate responsibility as a father and a man. The disorienting and electronic sounds traverse through space and time to provide boisterous and exuberant vibes. Together, the two are rightfully arrogant and braggadocious, but overall they are triumphant.