Lil Uzi Vert's path to the top became possible through Soundcloud. Soundcloud is in a way similar to Limewire when it comes to discovering new artists via algorithm. But it is also very different due to its ease of access and significantly reduced risk that comes along with discovery.
Starting out strong
Lil Uzi's consistent output of mixtapes and singles launched a successful career. Many newcomers gravitated toward Uzi's discographies because they recognized and admired the fact that Uzi never took a hiatus. In his early days, Uzi ensured listener satisfaction with thoroughly completed projects and creative album artwork and sometimes, promotion. One trope that he seems enthralled with using is the characters of Scott Pilgrim and Ramona Flowers. His girlfriend Brittany serves as Ramona and his mixtapes often detail the adventures they have. Using colorful images that have abstract backgrounds and intricate details upon vibrant imagery is something that Uzi thrives upon.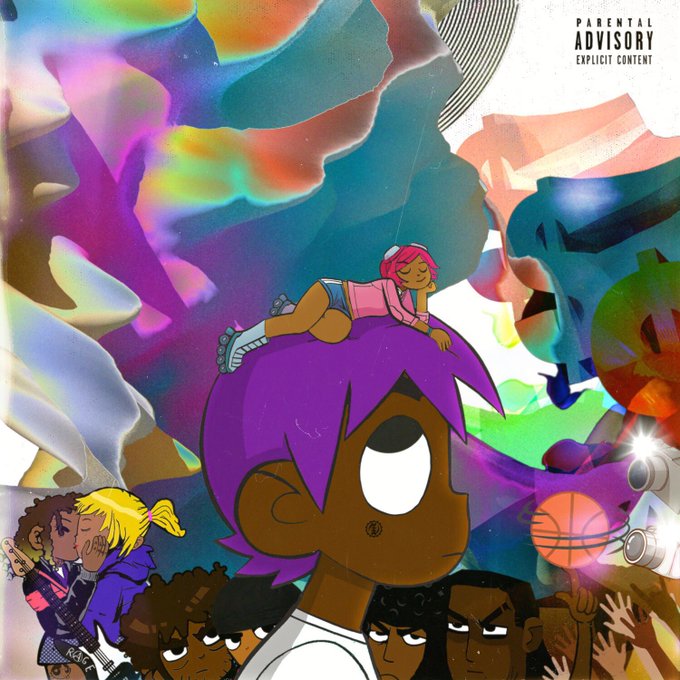 Lil Uzi Vert became a phenomenon among "mumble rappers" due to his different approach to music. His usage of skits, instrumentation, and simple delivery carved a lane previously untouched by any other Soundcloud rapper. Not only that, but his main cited inspiration is Marilyn Manson, which is a major reason why he considers himself the biggest rockstar in modern day hip-hop. Actually, he wishes to be seen as just an artist and feels as if his identity is fluid between rock and rap. He opts to choose a variety of genres by which he produces music and receives influence.
Rock 'n' roll forever
Marilyn Manson and Lil Uzi Vert had an encounter and they found a decent amount of similarities between each other. They each have a similar attitude, catchy musical bodies of work and both are smart enough to have encompassed several genres of music. Although, the two do not plan on collaborating on music, they enjoy each other's company very much.
https://www.instagram.com/p/BYgLbJIggRH/?utm_source=ig_embed
An artist of Uzi's magnitude attracts considerable allure simply due to the rate at which he facilitated quality sound productions.  Uzi's massive fanbase directly correlated with his consistent output which created anticipation for his next release.
For instance, between August 2014 and July 2016, Uzi released four different projects, each worthy of standing on its own for years at a time. He also released the "Purple Thoughtz EP," in 2014 and a collaborative mixtape with Gucci Mane titled "1017 Vs. The World" in 2016 and the "Perfect Luv Tape" on his birthday which was the last day of July. Since then, Lil Uzi has released one album, "Luv is Rage 2" on Aug. 25, 2017. "The Perfect Luv Tape" contained another reference to Scott and Ramona with a far-out whimsical artistic approach. It features Lil Uzi traveling into a hallucinogenic space and has a very ethereal vibe.
Lil Uzi continues to hold out on new music after starting off with a fiery stretch. Understandably so, his fans have become slightly irritated as they have grown to yearn for at least one project per quarter. Recently, Lil Uzi Vert expressed his regrets about his label  that led him to a long-term agreement with DJ Drama and Don Cannon's Atlantic Records Label imprint, Generation Now.
And if y'all do sign … sign 2 a major Dont sign 2 a rapper or a Dj ……..Its Just Easier When The Time Come For That Fake Shit

Although rumors of a Lil Uzi Taylor Gang affiliation have sprouted throughout patches of the internet, Uzi remains put with DJ Drama.

Clearly, some sort of rift has emerged and tensions are thick on each side of the situation. Therein lies the problem when someone who rose so quickly decides to make a major contractual decision with the same rapidity.

Currently, Uzi finds himself entrenched in an adverse situation where the financial motives of each party reflect short-term scenarios and quick come-ups, rather than impassioned relationships and longevity.

Apparently if all else fails, Rich the Kid would be ready to incorporate Uzi's world shifting capabilities on his Rich Forever label. It will be interesting to see the trajectory by which Uzi chooses to travel for his future releases. Uzi's biggest songs to date are, "You Was Right" "Carnage" (the first song that put him on the map with A$AP Ferg) and "XO Tour Life."