We all love music here, and we all love good television, too. So when the two come together, they have the potential to make a very special, fun time that we should all love, right?
Unfortunately, this isn't always true. There are a lot of shows out there that seem to consider the "musical episode" an obligation, or an excuse to forget about telling a good story for a week. But thinking about musical episodes as one-offs that can be carried just by the music alone is a mistake. Luckily, this makes it pretty easy to find the ones worth watching.
So without further ado, here's a short list of some of the funniest musical episodes ever made. As with all opinion-based lists, this is subjective and indeterminate. But I'll stand by these choices any day.
5. Parks & Rec – "The Johnny Karate 
Super Awesome Musical Explosion Show"
Just because this one sits at the bottom of our list doesn't mean that it isn't still hilarious. There aren't a whole lot of songs in this episode, as it focuses more on its characters than anything else. That being said, the music is still pretty great.
In the last episode of Andy's fictional television show, we get plenty of great music, all from the friendly neighborhood Johnny Karate. The whole episode is told in this show within a show, and has some pretty solid music too, though the comedy shines through more.
Best Musical Moments: The Johnny Karate Super Awesome Musical Explosion Theme Song. Donna and Ron playing a jazz rendition of "Kung Fu Fighting". Andy's farewell Johnny Karate song.
4. 30 Rock – "Kidney Now!"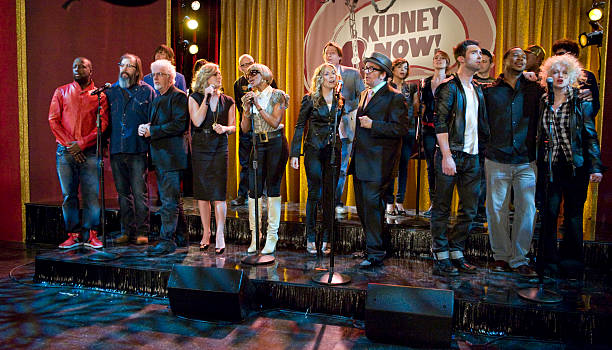 There have been so many great musical moments in 30 Rock, that it's hard to pick one over another. However, if I have to choose, it's got to be the finale of the third season, "Kidney Now!".
In this one, Jack Donaghy gets to know his newly discovered father Milton Greene (Alan Alda), but soon finds out that he's in need of a kidney. To help him out, Jack stages a benefit concert, calling in favors from a number of musical guests. This consists of a whopping 17 artists, including Clay Aiken, Sara Bareilles, Talib Kweli, Cheryl Crow, Adam Levine, Moby, and nearly a dozen more.
Best Musical Moment: The ensemble of artists singing the charity song, "He Needs a Kidney".
3. Scrubs – "My Musical"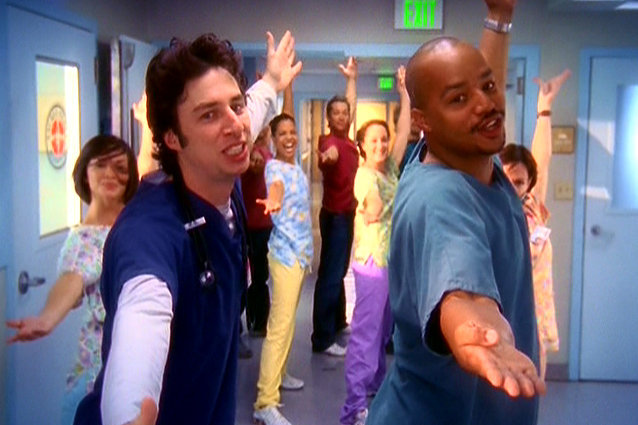 We absolutely couldn't keep Scrubs off this list, and this is one of my favorite episodes hands down. There are a whopping ten songs crammed into this 24-minute episode. It was also nominated for five Emmy Awards, and took home one of them.
"My Musical" follows a mysterious patient who hears people singing instead of talking. The episode opens with her being wheeled in as the staff sings "Welcome to Sacred Heart". And one of my favorite songs has to be "Everything Comes Down to Poo", sung by Turk and J.D. when they request a stool sample. Let's be honest for a second, and recognize that songs about poop are still comedy gold.
Best Musical Moments: "Everything Comes Down to Poo", and Turk and J.D.'s "Guy Love".
2. Community – "Regional Holiday Music"
If you've been following my other articles, it should be no secret by now that I'm a pretty big Dan Harmon fan. But I'm leaving Rick and Morty out of this list, in lieu of season 3, episode 10 of Community, "Regional Holiday Music".
The musical elements, as well as the plot help this episode's parody of Glee hit home. Greendale's Glee Club is in need of more members, and once one of them catches the "glee bug", it begins to spread in a series of hilarious musical numbers. One of my favorites is "Christmas Infiltration", which features Troy rapping about going undercover as a Jehovah's Witness to make it seem like he accepts Christmas.
Best Musical Moments: "Christmas Infiltration", Pierce's "Baby Boomer Santa", and Annie's "Teach Me How to Understand Christmas".
1. It's Always Sunny in Philadelphia – "The Nightman Cometh"
What else could hit the top spot on this list? In terms of sheer laugh value, "The Nightman Cometh" sits head and shoulders above the rest. Again, that's just my opinion, and there are probably good reasons to choose others. But still, "The Troll Toll" gets me every time.
Charlie's musical rock opera features some of the most hilariously bad songs. There's Dee's "Tiny Boy, Little Boy", followed by "Just to Be Clear", as well as Dennis' "Dayman" transformation.
Best Musical Moments: "The Dayman" reprise, Charlie's "Marry Me". And of course, I think Frank's "The Troll Toll" takes the cake.