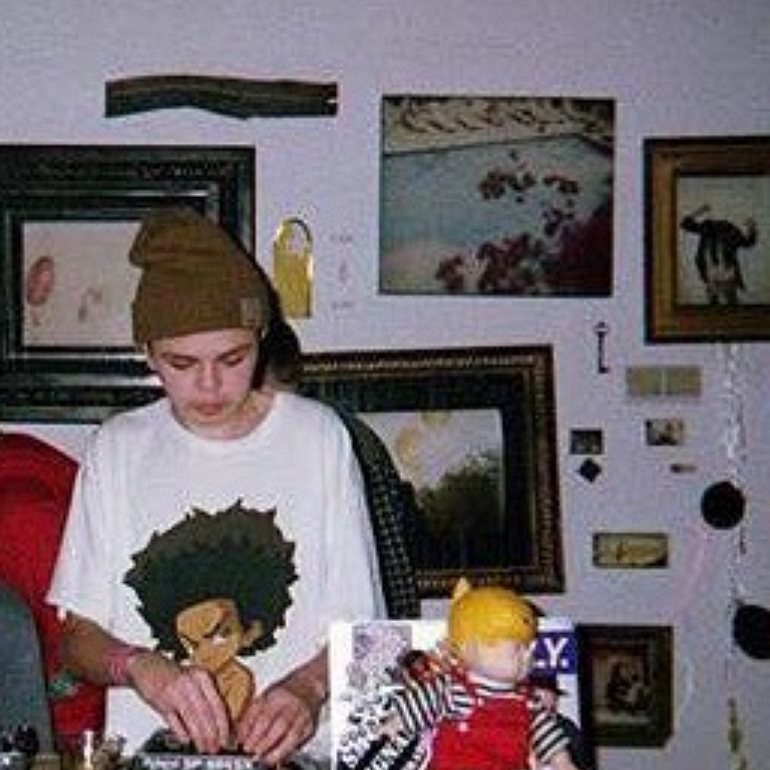 People who were raised on survival see the world much differently from people who were raised upon love. Clearly, not one human is exactly alike and we are all bred with differences. There are late bloomers and then there are individuals who understand the ways of the world at a far earlier age than others. Wiardon is a young man who fits that mold and has a vivid vision for what the future holds.
Now, don't get it twisted I am sure Wiardon was raised with plenty of love surrounding him. But his grimey musical catalogue makes it seem like he has had to scrape and survive to get by for much of the time. As a matter of fact, the only way to judge this man's character is via his musical body of work, so it is fair to say that he possesses a fair share of both love and survival tactics (Word to Capital Steez.)
Off the porch early
Wiardon hails from Austin, Texas. He hit the ground running at the age of twelve when he began making music in the starter program, Garage Band. Well, scratch that, I guess you could say it all started when his mother pushed him to join the band in the seventh grade. Since then, he developed a keen affinity for sound production and repercussion. After Garage Band, he transitioned into Logic and then progressed onto Frooty Loops. As of right now, he is currently mastering the art of Ableton and it is safe to say he uses this program with proficiency.
Sample nostalgia
Like many artists, Wiardon chose to pursue the production route prior to becoming a dual threat (rapper + producer.) Therefore, he was able to develop a great deal of rapport in important hip-hop circles and create lasting connections across the country. Some of the key elements deployed as part of his production process are jazzy and piano-type samples. Some of his favorite artists that he loves to incorporate into a beat are soulful legends such as Aaliyah and Anita Baker. For a while, he used no less than 15 different songs off Baker's album "Rapture" to create smooth beat samples.
The most important dividing factor between Wiardon and other artists is his duality of being. He is a producer and a hip-hop artist. He is from Texas but seamlessly speaks New York lingo. And most importantly, he is only sixteen but carries the weight of a veteran within our hip-hop hemisphere.
Munchkin
As a student of the game, Wiardon initially took a great deal of inspiration from artists such as Chief Keef, Retchy P and Lil Wayne.  As his bravado continues to increase, his metrics are soaring as well. Namely, because as an artist who stays in his lane, he is someone people appreciate. Staying true to your roots and being an originator of flavor can do wonders for your reputation.
In only four short  years, this artist has skyrocketed his following by   never straying from what he knows best. By sticking to his strengths and letting the process patiently play out, Wiardon has evolved in a short period of time. As such a young, yet skillful artist, Wiardon radiates levels of awareness that far surpass his peers.
Depth
Not to say that all of this hard-nosed effort and ability came completely natural for the virtuoso. In the beginning, Wiardon had some trouble focusing in school and would eventually find himself in a rehabilitation center. Still, in his most trying times, he dug deep and drove himself to discover his craft. A great deal of material was written within the confines of those rehab walls. As someone who has experienced adversity and seen a fair amount as only a high schooler, it is easy to understand where he developed his incredible introspection.
https://www.instagram.com/p/BrS8cpUgJiG/
Wiardon has traveled a well-trod and stylistic path. By fending off his "opps" and ducking all "dick-riders" he does a marvelous job at only concerning himself with aligning his pockets with "guap." As a raw producer who has worked with well-known artists such as Theolonious Martin, Mach-Hommy and Lucki, his tried and true method of beat development has clearly struck the right chords.
https://www.instagram.com/p/BdVecYIDz6d/
Cosmic groove
The pivotal turning point from solely production to production + rhyming came with the release of his first EP, "Foxhole Prayer" this past summer (Aug. 24.)  Wiardon is extremely clever, sharp and introspective. Also, he carries himself with boldness and is unafraid to coast over the track with witty lines and independent phrases that are unique to him and his inner circle. Overall, he balances old-school production with refreshing rhymes that resonate bi-coastally. That is a major reason why every move he makes builds a great deal of anticipation from those who are consistently tuned into his efforts.
His debut album, "NUMBA1VIKTIM" was released one day after his sixteenth birthday as a single Soundcloud track (no ads) and features a burgeoning NY artist, Wiki.