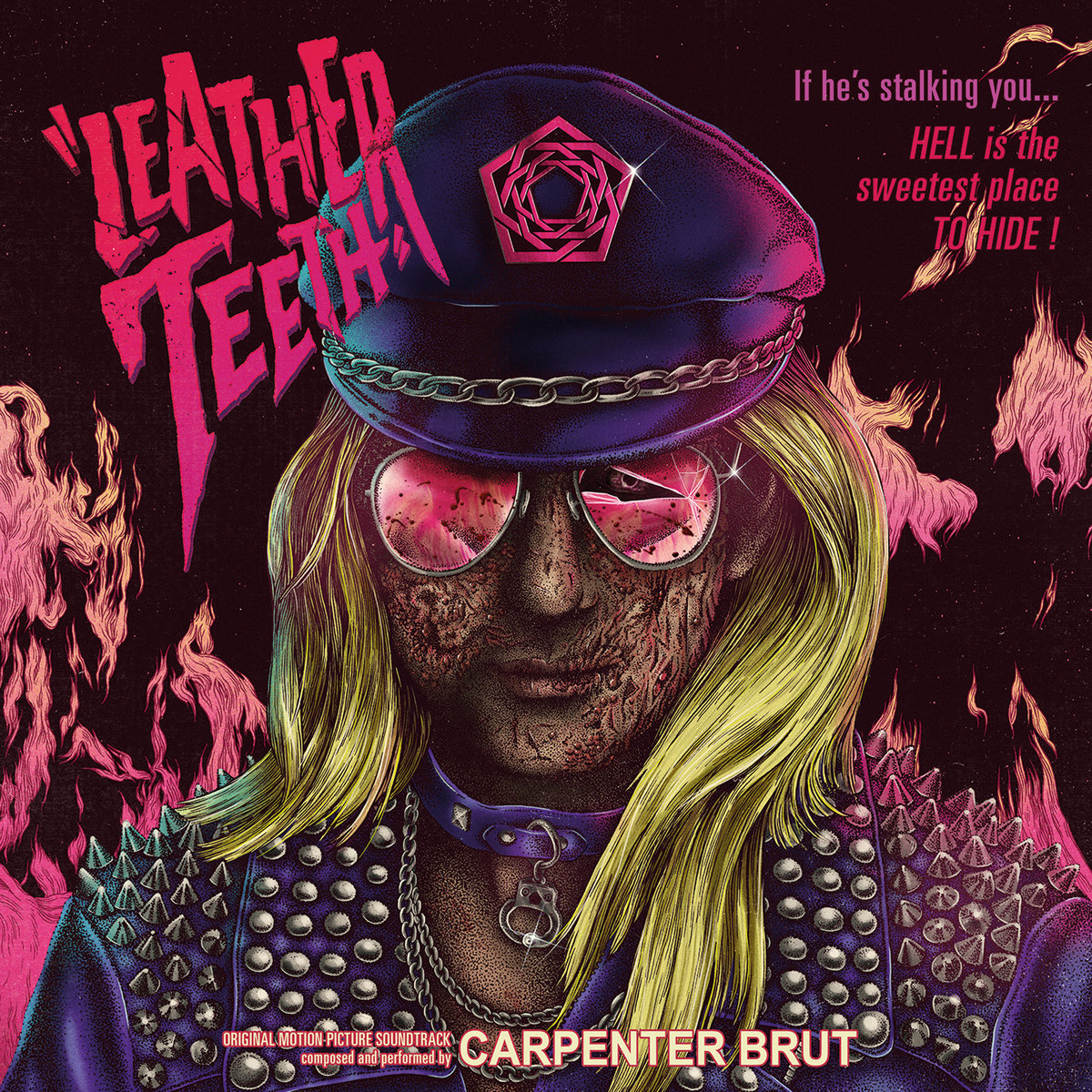 (The cover art for "Leather Face" – – Carpenter Brut's newest album. Image courtesy of Carpenter Brut's Bandcamp page.)
With little warning one of synthwave's greats released a short but sweet album that doubles as a soundtrack to an imaginary '80's pulp fiction movie. The artist is Carpenter Brut, the album is "Leather Teeth," and the result is a radical '80's sound that captures the nostalgic and overdone vibe of 80's schlock cinema.
For anyone unacquainted with synthwave, it's a genre of electronic music styled from the '80's. All the pulp, the drama, and the sincerity of the decade comes out in synthwave. Fortunately, synthwave was never fully an imitation act. The genre is also where some of the best French electronic artists stake their ground and grow into their own.
Carpenter Brut is a synthwave standout. Carpenter Brut showed one of the most refined and unique styles in synthwave with his last album "Trilogy." "Leather Teeth" is a far cry from "Trilogy."
"Trilogy" felt like an album with mountains of thought behind it. It was dark, sinister, fun, and felt effortless to listen to because its dynamics were so smooth, its production was so clean, and all the compositions were so well-paced. "Leather Teeth" feels like raw emotion and musical instinct. The two albums contrast sharply even down to run-time with "Trilogy" running over 80 minutes and "Leather Teeth" finishing in just over 30 minutes.
If "Trilogy" is the smarter album, "Leather Teeth" is the more fun one. "Leather Teeth" refuses to go into the slow, creepy valleys many synthwave albums have and spends its 30 minutes dancing through the gore and the glitter of the '80's pulp that inspired it. On "Leather Teeth" you'll find electric guitar solos, cheesy glam rock vocals, and a varied set of compositions and sounds. It all adds up to make "Leather Teeth" feel like a campy '80's soundtrack.
Right off the bat, "Leather Teeth" opens with a groovy title track. "Leather Teeth" is a synthwave purist track, filled to the brim with crunchy synthetic sounds and so many genre staples – choral background vocals, synthetic drum fills, synthetic keys rising and falling, and loud synth backbeats mooring it all. It's a heavy track that hits you right away and keeps going until the end. This is the trailer or introduction sequence.
The movie kicks off with the next three tracks. They strike me as the part where the movie builds the characters, provides context, and gets the action started. This is the least high-octane part of the album and my favorite segment.
I love that Carpenter Brut plays with a lot of styles in his music. His willingness to dip into various flavors of music distinguishes him from other synthwave artists who often find one aesthetic for an album and stick to it. For Perturbator's "New Model," it was a hard-hitting but clean new style of deeper synths. For Dan Terminus's "Automated Refrains," it was robots and all that sounded robotic.
In Carpenter Brut style, "Leather Teeth" diversifies the flavors on its album, which makes it a more refreshing and surprising album but also a more jarring and crowded one. "Leather Teeth" isn't just shorter than "Trilogy," it's also much more packed. "Leather Teeth" is so jam-packed it can feel overly crowded at times.
"Leather Teeth" gets the best of both worlds – – less crowded and more varied – during the middle of the album. "Cheerleader Effect" has probably my favorite vocals on an oddly-vocal loaded album. It doesn't sound far of from an actual '80's movie montage track. It's super fun and has a delightful keyboard breakdown at around 2:15 that builds into a gorgeous climax.
"Sunday Lunch" is damn near vaporwave. It's nothing I've heard Carpenter Brut do before but it's funky. This is a slower song, lower tempo than a lot of the album but it gives the track space for fun and interesting synth, guitar, and bass solos.
"Sunday Lunch" also transitions perfectly into "Monday Hunt." "Monday Hunt" and "Inferno Galore" are twin hype tracks with much faster rhythms and some lower-pitched sound to create tension. In this album's movie world this is where the action starts to set in, the plot gets going, and the danger sets in.
"Beware The Beast" gives me the most mixed feelings. This song communicates an aesthetic of a cheesy 80's movie villain theme very well. The problem is cheesy 80's movie themes aren't that great. "Beware The Beast" shares the flaws of the genre it emulates, with awkward opening vocals and tons of dumbed-down power chords. That said, it's an oddly catchy and fun song. For all its flaws, it's enjoyable and it fits the album premise pretty well even if it breaks up the flow.
The last two tracks are strong. "Hairspray Hurricane" sums itself up in its name. It's an uptempo whirlwind spinning through a fun palace of synthwave and '80's music tropes. "End Titles" is a bit dull in comparison but it's a nice denouement and feels like what would play while the movie wrapped up and the credits rolled.
I didn't come prepared for what "Leather Teeth" gave me but I left feeling satisfied. This is one of the most fun synthwave albums I've heard. It feels deeply true to an 80's pulp horror while still having its own style. "Leather Teeth" isn't as complete or subtly brilliant as "Trilogy" was but it's a fast and fun romp well worth a listen.
8.5/10