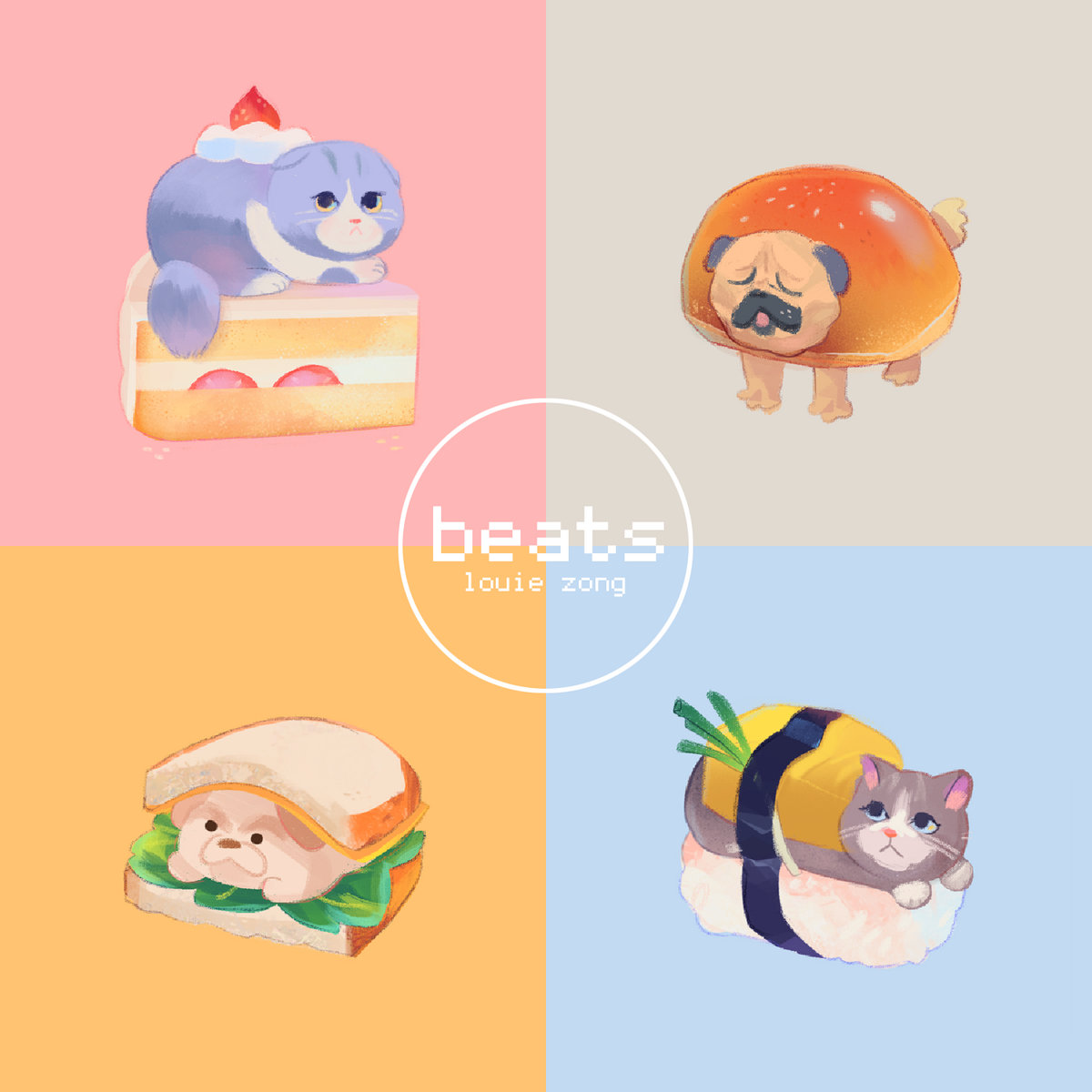 (The cover art for "Beats" by Louie Zong, courtesy of Louie Zong's bandcamp page.)
Louie Zong takes short and sweet to new levels. Most of Zong's songs and animations don't go beyond three minutes but they rarely need to. In that short time, Zong's warm and friendly style has you charmed.
Zong works as a storyboarder and animator for the Cartoon Network show "We Bare Bears" but he has a musical background as well. He trained in classical piano and played for a few bands in his college days. He's a jack of all trades and makes video games, animations, art, gifs, and music. Brevity and warm, cute charm run through every one of Zong's projects and unifies them.
If you've seen Zong's work outside of Cartoon Network, it might have been an animation for other popular content creators like Game Grumps or the many things the McElroy brothers do. Zong's super short, super cute and expressive style works well as a quick highlight of longer media. With every video, Zong makes characters and people super expressive in very simple ways.
He picks soft and warm color palettes that feel inviting. He also blends lines and blurs his backgrounds in ways that make his videos feel like living paintings. Through a ton of little touches, Zong makes the motions and faces in his videos feel expressive and dynamic. Put it all together and you have endlessly cute, charming, and quick animations.
Zong carries his charm over to pretty much anything he makes. Though his original work doesn't get as much attention they're even better than his other animations. He makes the audio to them as well so that they have a completely cute and cozy aesthetic. Most of them only last for around a minute but usually in a way that makes sense or even adds to the experience.
https://www.youtube.com/watch?v=URO_76iGRYw
On top of animations, Zong makes tiny little games that are usually music makers or explorers. Made on unity and as a side-project, they don't have a lot of depth but they have the same charm as his other works.
Just like the animations and video games his music is short and sweet and so very pleasant. Most of Zong's EPs don't go past 10 minutes which lets him put them out constantly. Despite the constant output most of Zong's albums are fun, interesting, and even varied. Everything he makes has a distinctive atmospheric and folksy vibe to it but each EP fits a different mood and idea. "The Atom" is a sci-fi styled EP made with synthesized sounds while "Wanderer" is more about plucky strings and earthy tones.
Louie Zong graciously puts out all his side-projects for free. The EPs being free also removes any weight that would be on their length. There's no reason to complain about not getting enough for your money if you aren't spending any of it.
Even though every song Zong makes is a free and quick experimentation, it all feels worthwhile. He makes simple compositions that don't have a lot to dissect but still feel fun to dive into on repeat. The love I have for his songs comes from that same charm and aesthetic his videos have. The feeling of cuteness, warmth, and coziness crosses right over to his EPs. Since his songs parallel his visuals so well he fits perfectly on Tumblr, where the music player can come packaged with a small gif or image.
One of my favorite works of his is a song and gif pairing called Frog Shop. It's a simple but super nice multimedia package that feels like a glimpse into a colorful fantasy land.
For the most part, I love Zong's work but sometimes his songs and videos feel incomplete. While I get and appreciate Zong's brevity – especially since these are all so many side projects – I want more. I'd like to hear a full album from Zong. His music is so atmospheric that getting cut off from it after ten minutes can feel disappointing. He never stays too long but sometimes he leaves too quickly.
I won't complain much. Zong gives away his side projects for free. In his interviews and titles, it's clear he has some nerves and insecurities attached to these side projects. I'm grateful he pushes past them to make free and quality art. It's clear he has a separate full-time job and so I'm grateful he spends his free time on awesome side-projects. I just hope to hear a full album (or play a full game) one day.