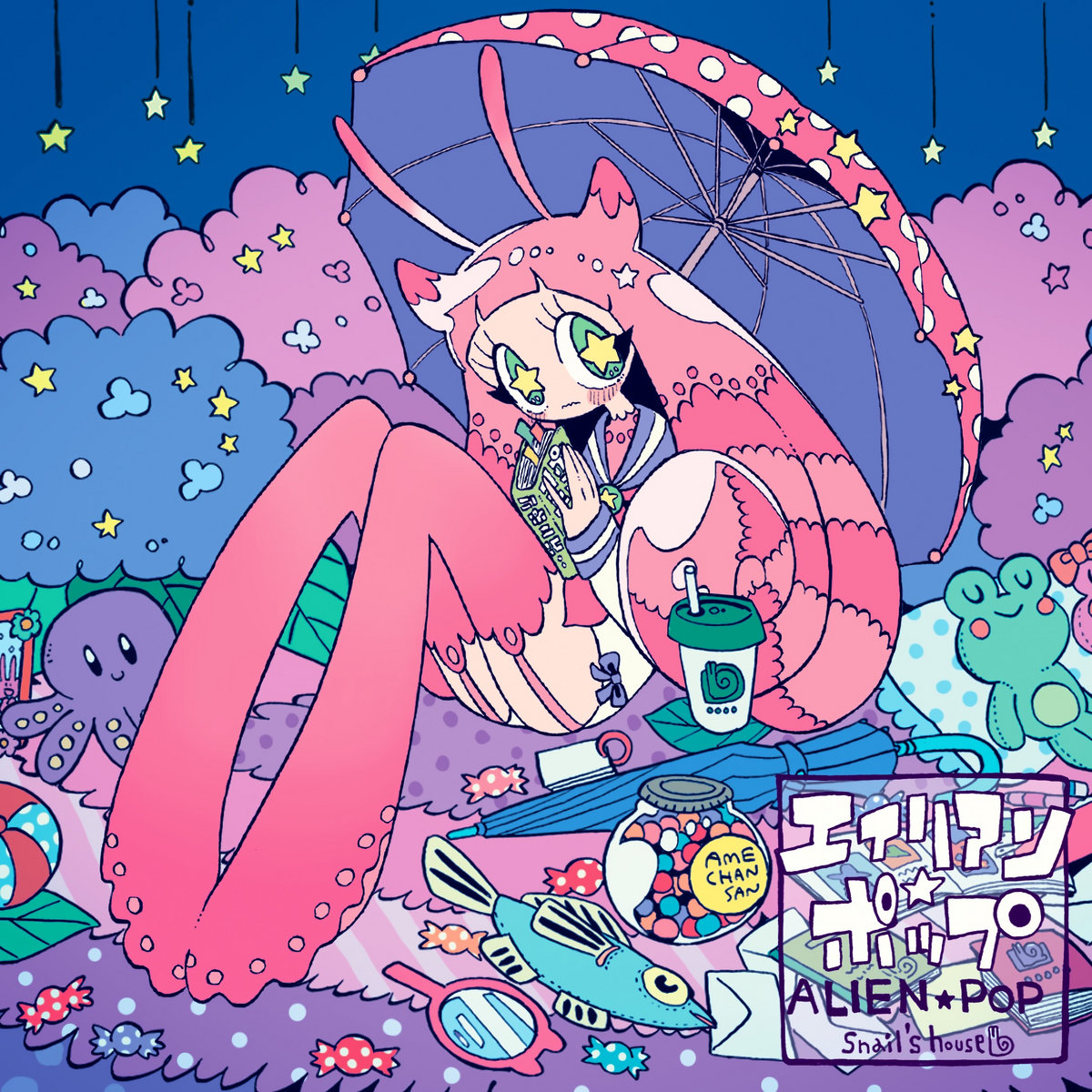 (The fantastical and cute cover art to the new Snail House EP "Alien☆Pop". Courtesy of Bandcamp.com.)
In electronic music, there's a sub-genre of YouTube- and SoundCloud-based artists that are all loosely inspired by anime visuals and sound. Their songs tend to be super groovy, upbeat blasts of happiness or deeply laid-back and dreamy. In this soup of similar sounds Snail's House stands out. Snail's House is a 20-year-old Japanese musician that's been making music for about three years. During that time he's had over 85 releases on his SoundCloud.
Snail's House just released his fifth product of 2017, an EP called "エイリアン☆ポップ" or "Alien☆Pop" in English. It's a fun and vibrant EP with a pretty interesting conceit: all the vocals are made by an alien trying to sing about the love it has for a human. To make the language's sound, Snail's House cuts up vocal samples and distorts them heavily.
It works pretty well. It's not an unheard of idea either. Iglooghost did something very similar in his fantastic album "Neo Wax Bloom." Between the alien vocals and the very glitzy and synthetic beats, it does sound like a very cute, very alien product. The cover art matches the musical vibe too, featuring a pink, anime-styled alien whose environment is overwhelmed by purples and pinks and candies and toys.
This album is about alien girl who have crush on human. she tries to speak human language but doesn't work. so songs in this EP are basically sang by her trying to sing in human language and there are no lyrics. 🐌

— Ujico*/Snail's House (@loudnessfete) November 29, 2017
"Did you use Miku on your latest EP?"

No, I didn't use vocaloid, it is based on vocal chops from samples.

— Ujico*/Snail's House (@loudnessfete) November 30, 2017
The problem is "Alien☆Pop" hits its mood too well. All four of the main tracks on "Alien☆Pop" have the same mood and tone to the point where they become difficult to distinguish from each other. "Alien☆Pop" becomes a goop of cute energy. There are worse things to be than kawaii-goop, but kawaii-goop does get tiring at a point.
After listening to the album many times, I fell in love with its opener and closer. The start and finish felt more separated and distinct from the kawaii-goop than the middle. "Invation (Intro)" runs just a hair past a minute but it's the most thought-provoking song on the album. "Invation (Intro)" departs from Snail's House's regular style and the style of the rest of the EP. It sounds like it belongs on the new Dan Terminus album. It has an undulating synthesizer rhythm that builds from light to heavy much in the way a synthwave song does. It sounds excellent, but as an intro, it gave me mixed feelings. On the one hand, I love the way it sounds and it does keep an extraterrestrial vibe. On the other hand, it feels like a poor introduction because of how different it is from most songs on the EP.
https://www.youtube.com/watch?v=7lyF3WLjeaE
I liked the last song "忘れ雪 (Wasureyuki)" for its slower tempo. It works very well following three uptempo and happy jams because it's more relaxing. "忘れ雪 (Wasureyuki)" feels like the cooling down after a hectic but fun adventure. I also enjoy how it makes space for the alien vocals. The beats peel away for the alien singer at points and the toned down vibe gives more room for the vocals in general. The vocals may be unintelligible, but they can still lead the rhythm just as intelligible ones would. Plus, making space for the alien singer adds to the sense of theme and story in "Alien☆Pop." It's weird to say, but it makes the vocals feel like they aren't just another electronic element.
The three middle songs aren't bad either. The whole EP is solid and has good ideas, it just lacks variety. The middle three songs sounded to me like slightly different versions of each other. They all carry a distinct and interesting mood made by a mix of fun, high-energy sounds (lots of piano keys and synthesizers). When you want that cutesy, happy vibe of "Your Name" or another upbeat and colorful anime, there are few better places to look. Snail's House still sounds better than most artists similar to him, but his other albums show more of what he is capable of. His 2017 albums "[FLOWERS]" and "WonderWorld" have a much wider range of moods. "Alien☆Pop" feels less varied in comparison.
7/10