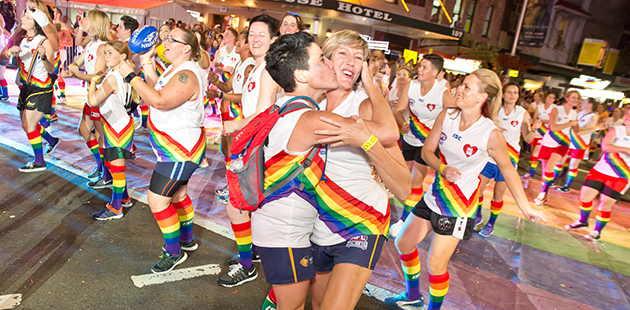 (From the Sydney Mardi Gras Parade in 2017, courtesy of Australian Pride Network.)
In a postal plebiscite recently the Australian people voted strongly in favor of legalizing gay marriage. While the vote is nonbinding, so it does not mean that gay marriage is guaranteed. Prime Minister Malcolm Turnbull and his center-right party have agreed to abide by the results. It would be hard for politicians to resist legalizing marriage as the public voted overwhelmingly in favor of it (more than 61 percent voted yes, or for).
For Australia the heavy victory for same-sex marriage was a bit of a surprise. Major religious institutions as well as former Prime Minister Tony Abbott campaigned in force against same-sex marriage during the plebiscite. Plenty of same-sex marriage advocates did not even want a plebiscite, let alone one where voting had to be done by mail. Yet, the "yes" campaign came together very well, with backing by long-time advocates, established political forces, and waves of dedicated volunteers, according to ABC's excellent inside look into the yes campaign.
This is also a big defeat for Tony Abbott and the more conservative wing of Australia's center-right as they have been vehemently anti same-sex marriage. According to the Washington Post, Abbott used the referendum to try and return to the power he used to have in the Liberal Party before current PM Malcolm Turnbull ousted him. Turnbull has promised to sideline other legislation until a bill on gay marriage has passed and the Australian Senate has one already prepared, but there is a battle over provisions that the right say will protect religious freedom. Churches will be allowed to refuse performing marriages they disagree with under the currently readied bill.
The vote also exposes a divide between urban and suburban on same-sex marriage in particular but social issues in general. ABC News's Australian website breaks down the voting across Australia found that cities that voted overwhelmingly in favor of same sex marriage, but their neighboring suburbs provided most of the votes against.
In addition to having a social effect, the rush of same-sex marriages that follow the bill may give a significant boost to the Australian economy. Weddings are big events that require a lot of goods and services. The Australia and New Zealand Banking Group estimated the business revenue generated could be over 650 million Australian dollars or 490 million USD. Regardless of the economic impact, the results have given the LGBT+ community in Australia and the world over a lot to celebrate.