This is music with meaning: Indianapolis-grown Coup d'etat is making a break into the music scene this summer, filling the stage with poetry that explores human conviction and the depths of our hypocrisy.
About this "Power Trio"
Unique would be the least of all words used to describe Coup D'etat. Each member of the trio hails from a different musical background, together forming the group's collective direction.
Himself a high school choir boy, bassist Phil Sloan's style was inspired by the Red Hot Chili Peppers. He's been experimenting with blues tunes on bass since the group formed in 2012.
Guitarist David Stefanek leads Coup D'etat with a lifetime of lessons in the rearview. At 13, Sefanek began writing lyrics with chords modeled after the rock 'n' roll of such artists as Nirvana and Led Zepplin.
Like Stefanek, drummer Kamaron Lockwood started out on the snare drum as a kid, but earned his seat behind a full set. He now spends his free time in the studio experimenting with music influenced by everything from jazz to heavy metal.
Five years to fame
Coup d'etat was officially born out of Sefanek and Lockwood's partnership with their 2012 edition of bassist and final member, Phil Sloan. The band explains their story simply:
"We met, We played. We loved, it."
– Phil Sloan, David Stefanek, and Kamaron Lockwood
In the last five years, the band's been busy making a name for themselves performing in iconic Indianapolis venues like the Vogue, the Hi Fi, and most recently, the Pavilion at Pan Am.
Now, having recently joined the Spark Joy Music Label, Coup d'etat's vision is to see their music reach the world outside Indianapolis. They've got hopes to take the stage at some Midwest music fests in 2017.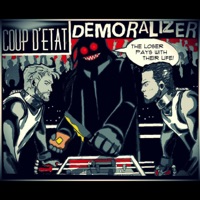 The trio's performances in and around Indianapolis are based primarily in their two previously released albums, "Sorry" (2014) and "Demoralizer" (2016). They keep every show energetic, using their often socially motivated lyrics to both entertain a crowd and call out fallacies in a post-religious culture.
Not convinced? Check out this Coup d'etat Christmas video, and tell me I'm wrong.
"Salt & Pepper"
Coup d'etat's single, "Salt & Pepper", is the narrative of a rich man and a beggar meeting over the course of their life–guess which one really lives in poverty?
https://www.youtube.com/watch?v=PX0IY3xjGUY
This song's guitar work and narrative quality are reminiscent of the Charlie Daniels Band's "The Devil Went Down to Georgia" fiddle, its tempo alternating from something smooth and jazz-like to heavier, drum-based rock 'n' roll.
Comparing the experiences of an only child with "everything [he] wanted" to a "man born on the streets," Coup d'eta explores where real wealth is stored: the soul. "You can't take it with you / doesn't matter how much gold / All the money in the world and / it ain't enough to buy my soul," they cry to all who will listen.
Concluding simply, the trio poses one question to their audience: "Which life do you think is better / a life of salt or a life of pepper?"
Want to hear these guys live? Check out Coup d'etat on July 21 at Black Circle Brewing in Indianapolis, or on July 22 at the Short Branch Saloon in Neenah, WI. Up for a trip to Angola? Catch them outside at the annual Blackiefest August 19.