It's a bright, warm day outside. You stride into a convenience store to buy dinner. You dazzle in your fashionable red ensemble. Your hair is stylish. Your jewelry is stylish. Your shoes… God, those shoes! Maybe I'll make a salad, you think. These tomatoes look nice, so ripe and supple and red like my lips and my dress. Then you look up. There he is. You see him and yourself in your mind, dancing, your faces almost touching, happy. You see him now, with his arm around another. Her dress and her lips are red too. The tomatoes drop from your hand and roll onto the floor, like red boulders bounding down a cliff.
So begins the brilliant music video for Bomba Estéreo's newly released single "Duele" ("It Hurts"). Let me say right away that the song is really great, twitchy with vivacious energy, further evidence that vocalist Liliana Saumet and instrumentalist Simón Mejía remain as bold and adventurous as always, even after four studio albums and smashing success and a boatload of awards. For "Duele", the Colombian musicians chose an Armenian-inspired sound, turned way up to compete with Saumet's mesmerizing vocals. "It hurts", she blurts out in the refrain, over and over again, producing the effect of a scratch on a turntable. Sung by any other artist the song would be completely different. As sung by Saumet, it's sharp, convulsive, remarkable.
There is nothing Armenian about the music video, the work of the talented American filmmaker Sam Mason, which tells its story from the perspective of the wronged woman. What makes it unique is that its focus is not the outside world of events, the boyfriend and his lover's reaction at being found out, for example, but the woman's psyche, her inner, private world. And it really does tell a story, with a beginning, middle, and end. This isn't one of those pop videos with fancy visuals that are just excuses to show pretty people dancing in elaborate costumes.
You've just caught your lover cheating. You feel the upswell of pain, humiliation, anger. How is this rendered in your mind? Well, if you are this woman, you fall through a hole of despair, only to land in the middle of a white-sanded desert. As you stand up, you see the air around you is taken over by giant floating tomatoes.
This is so brilliant, because that's exactly what happens. At first, when you go into crisis, you hold on to the nearest thing possible, the most present thing in your mind. In this case, tomatoes! The desert Mason creates is beautiful, full of bold color (mostly red). It also seems strangely familiar. There's a bit of the phantom desert from Tim Burton's film "Beetlejuice", but even more clearly a loving homage to the paintings of the Spanish surrealist Salvador Dalí, like "The Enigma of Desire", "Meditative Rose", and many others.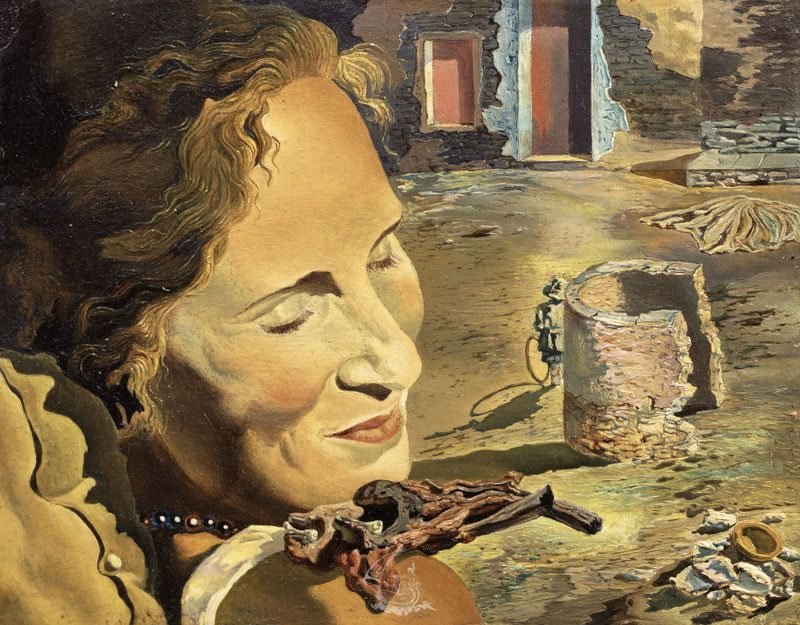 As you become accustomed to your psychic desert, you start seeing different aspects of your life hovering above you. There is the white statue depicting passionate kissing, but also all the things that made your life at once flashy and empty: tennis rackets, expensive stilettos, a moon-sized engagement ring. You picture yourself with your man, dancing. You picture him taking his ring off behind his lover's back. "It hurts. It hurts." Then you find a mirror, propped up on a desert rock. You look at yourself, and then you see yourself, and then you make a choice. You're back in the convenience store, confronting him. It hurts, but you don't run away. It hurts, but you will make him pay. What better revenge than a splattering tomato right on his cheating bastard face?
This gratifying end of the video contrasts sharply with the lyrics of the song, where no such self-awareness or empowerment are to be found. "Duele" is the cry of the abandoned one who'll do anything to be taken back. "I don't know if you know I saw you leave", she tells the empty air left behind by her beloved, "without a word, without a thought for me". Does she gather herself and confront him? Does she throw a tomato at his face? She does not. She pines, "I imagine you will return one day", she pleads, "I gave everything", she promises, "if they ask me if I'll come back to you/ I will probably say yes". Love hurts, says "Duele", and sometimes that's all there is.
We have two stories here, then, a sad and a happy one , a glass half full and a glass half empty. "Duele" can be enjoyed either way, or both ways. But that video… God, that video! May Bomba Estéreo and Sam Mason work together to make many more.