They've done alternative, they've done krautrock, they've done shoegaze. They prefer to call their own sound "celo-cats", meaning "cats in heat", which shows how much they care about genres or labels. Whatever they are, there's no doubt that it's working. After the release of their widely acclaimed album "El Perro Verde y Triste", Vaya Futuro, the exciting young band out of Tijuana, have been anointed the standard bearers for a new generation of Mexican independent music. It seems like they're warming to the title, as they've shown with the release of an EP (extended play track) late last year, titled "El Hombre Sin Cabeza y el Baile de los Resignados". The eleven-minute track, which is essentially two songs played back to back, shows Vaya Futuro to be an ambitious and courageous group of artists, who care less about mainstream appeal and more about exploring their talents and following their vision wherever it may lead them.
The swift emergence of Luis Aguilar (vocals and guitar), Miguel Ahuage (drums), Aldair Cerezo (guitar), and Luis Ros (bass) from underground unknowns to music-fest staples speaks to the expansive opportunities available nowadays for independent performers. Their first steps, as is commonly the case, were wobbly and uncertain. They played live gigs in Tijuana and across the border in Texas and California. As Celofán, they recorded their first tracks on makeshift studios configured with cheap digital technology. Their self-produced debut album, "Ideas a Medias" (which means "half-baked ideas"), appeared in 2014. It is a collection of guitar-heavy numbers influenced by American alt-rock bands and 90s'style shoegaze (which is the practice of using the reverberating noises caused by electronic instruments as part of the musical composition). It got them some enthusiastic reviews but little attention.
Soon after they were forced to give up their band name when an Acapulco-based punk group that was already using it filed a lawsuit against them. The band took this as an opportunity to continue experimenting and reinventing themselves. They adopted the name Vaya Futuro from the title of a song by the Spanish pop group Los Fresones Rebeldes, which expresses disappointment at how little the year 2000 resembles science fiction movies. Their sound in turn became more futuristic, but always loaded with disappointment and resignation, as befits a group of young talents growing up within driving distance of some of the bloodiest battlefields of the Narco war.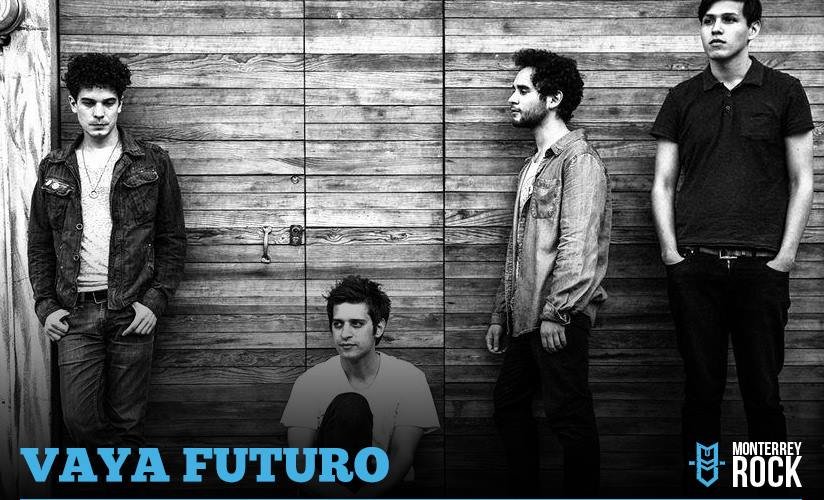 Their first break came when they were discovered by Rubber Tracks, a program financed by the Converse sneaker company, designed to discover and nurture young independent musicians. Vaya Futuro requested to be allowed to record at Greenhouse Studios in Iceland (where Björk and other alt-rock luminaries had worked before). With the help of veteran producer Ben Allen, they recorded the first tracks of what would eventually become "El Perro Verde y Triste" ("the green and sad dog"). Once back home in Mexico they worked, in hours-long nighttime sessions at Fonobox Studio, on the rest of the music that eventually came to form the album's nine tracks. They range in tone from the basement party anthem "Mal Sueño" through the pleasantly melancholic "Distimia" to the intricate and forbidding "201".
The new EP, "El Hombre Sin Cabeza y el Baile de los Resignados", feels like a more deliberate production. It has a more express awareness of the troubles of the outside world, which are mostly left out in the hermetic spontaneity of the previous album. The titles, to begin with, eschew whimsy in favor of pregnant meaning. The name of the first song, "El Hombre Sin Cabeza" ("the headless man"), alludes to unthinking apathy, to the cowardly ostrich hiding its head in the sand, but also to the gruesome corpses left behind by sicarios, the hit men of the drug cartels, and perhaps also to fairytale monsters like "El Jinete Sin Cabeza" ("the headless horseman"). The second track is called "El Baile de los Resignados" ("the dance of the resigned"), its meaning made plain by the recurring lyrics: "If I crouch down when they tell me, maybe I'll be saved/ If I shut up when they tell me, maybe I'll be saved/ If not, rest in peace." Fame, it seems, has allowed the members of Vaya Futuro to lift their heads and look around, and now they're prepared to say something about what they see.
The tone of "El Hombre Sin Cabeza" moves, in patient but decisive steps, from ominous foreboding to panicked despair. The drums roll as if heading a military column. A pleading singing voice is buried by the emphatic bass line and the increasingly explosive guitar strums, which culminate in a flood of sound that conjures the plunge into a dark abyss. After a needlessly long interlude of distorted sound, "El Baile de los Resignados" arrives with a very different notion in mind. It rests on a catchier, if not necessarily happier tune, and invites feet-tapping with its rockier groove infused with Latin rhythm. But this is no radio pop hit. It carries the melancholy, the resignation, that is becoming Vaya Futuro's calling card.
The band's decision to release its two new songs as an EP rather than part of a full-length album is intriguing. It suggests that they are not planning to follow the path to stardom that has become de rigueur for bands in every genre, with its multiple-album studio contracts and touring schedules prescribed by the powers that be. The future, they seem to be saying, belongs to the bold, to the iconoclasts, to the artists committed to their own way of doing things. One thing is for certain, their fans are breathlessly awaiting for what the future will bring.